OmicsLogic Bioinformatics Training Program Offered Through Louisiana Biomedical Research Network (LBRN)
LBRN (Louisiana Biomedical Research Network) together with Pine Biotech and the Tauber Bioinformatics Research Center from the University of Haifa, Israel have established a bioinformatics training program "OmicsLogic," a comprehensive collection of modular resources in data science and molecular biology. The program emphasizes hands-on learning with relevant clinical and research examples.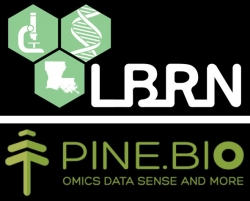 New Orleans, LA, October 18, 2018 --(
PR.com
)-- Pine Biotech brings hands-on biomedical data science training to enable the next generation of researchers for career success.
In this Age of Data, analysis skills are an essential part of research, discovery, development and clinical decision support. It is imperative that future biologists & clinicians are trained in data science now. However, the majority of life science students are not equipped to deal with the exponential growth in complexity and abundance of high throughput biomedical data. To address this challenge across the state of Louisiana, Pine Biotech, in collaboration with Louisiana Bioinformatics Research Network (LBRN) and the Louisiana State University (LSU) Center for Computation and Technology combined their expertise to develop a comprehensive curriculum for bioinformatics. The curriculum is based on Pine Biotech's "OmicsLogic" program which was developed by Pine Biotech in collaboration with the Tauber Bioinformatics Research Center at the University of Haifa, Israel.
This innovative curriculum takes a modular and practical, project-based approach. The modularity allows students with no coding experience to those with coding experience who have not yet applied data science at scale to learn and advance their knowledge. Working on a single project at a time extends the participants' familiarity with biology by providing hands-on applications aligned with important topics such as analysis of Next Generation Sequencing data (Genomics, Transcriptomics, Metagenomics and Epigenomics) including data science skills such as Machine Learning and Biostatistics. The LBRN-Pine Biotech new bioinformatics curriculum is unique in three ways:
· no coding skills or past experience in coding is required
· hands-on learning: students can immediately apply the sample analyses they construct using real data from curated data sets to their own research
· data science is taught within the context of biological and clinical relevance/applications
Bioinformatics skills are in high demand in life science research but are currently taught in fewer than 25% of college and university programs (M.D. Brazas et al., Nature 2017). Many universities simply can't afford the computational infrastructure, can't find experienced professors and have trouble getting students over the barriers to entry associated with learning to code. Yet for the past three years in a row, Data Scientist has been named the #1 in-demand career with median salaries exceeding $110,000 and nearly 5,000 jobs currently open (LINK).
Earlier this summer, LBRN and LSU jointly hosted a 3-month pilot bioinformatics training program offering hands-on learning utilizing Pine Biotech's OmicsLogic. Over 40 students from LSU, LATech, Tulane University and others participated in the summer pilot and provided positive and constructive feedback on further extending and improving the training. Introduction to the extended OmicsLogic training and exclusive course content will be presented during a free webinar, hosted by LBRN on October 22 from 10:00am - 12:00pm CDT.
"We are pleased to announce the Fall/ Winter Bioinformatics program for members of LBRN which will begin the first week of November. The course is funded in part by the LBRN (NIGMS:P2O GM103424) for LBRN attendees and by CCT for LSU attendees," said Ramesh Subramanian, PhD, LSU Assistant Professor & LBRN Program Coordinator. He added, "Our program will be rolled out to 100 students which will greatly enhance the undergraduate learning experience so that they can immediately apply lessons learned to their research in the short term and make our graduates more competitive in the future."
The webinar will highlight some of the most commonly requested aspects of omics including how to construct complex analysis pipelines and effectively using machine learning tools for data mining. Each module within the bioinformatics training program has been designed to help students learn how to advance scientific research in biomedical areas like oncology and neuroscience. The course will be conducted using the multi-omics research platform T-BioInfo, developed by the Tauber Bioinformatics Research Center.
Elia Brodsky, CEO of Pine Biotech, points out, "Our solutions enable learning with contextual and practical understanding. We strive to provide students and faculty with the tools and examples that students, clinicians, researchers and bioinformaticians need to succeed." Earlier this year, Pine Biotech conducted a market research survey of OmicsLogic graduates. Brodsky stated, "Over 65% of our students indicated that they are motivated to learn scientifically and clinically relevant data science so that they can make new discoveries that make the world healthier, hence underscoring the importance of a hands-on, projects-based curriculum."
To learn more about OmicsLogic, the modular bioinformatics educational program that is being rolled out at several universities for degree and certification award, or to sign up for independent learning, go to: https://t-bio.info/omicslogic/
About Pine Biotech – our mission is to simplify biomedical data analysis and enable scientific discovery through engaging educational programs, research tools and innovative software. The company was founded by a team of experts from the Tauber Bioinformatics Research Center, University of Haifa, Israel who developed a user-friendly multi-omics platform, T-BioInfo. The multi-omics platform is enriched with educational, contextual content and simplifies analysis for non-experienced users via proprietary A.I. technology. The platform handles the integration of large, disparate data sets using high performance computing infrastructure and provides both conventional and custom machine learning analysis methods. The educational content was expanded into a comprehensive suite of courses, workshops and university-affiliated programs for diploma certifications which are now being offered by several university partners. Today, students around the globe are learning bioinformatics through a hands-on approach with the T-BioInfo platform and the OmicsLogic curriculum. The company was incorporated in 2014 with offices at the New Orleans Bioinnovation Center and has extensive collaborations with research institutions across the US, Europe and India.